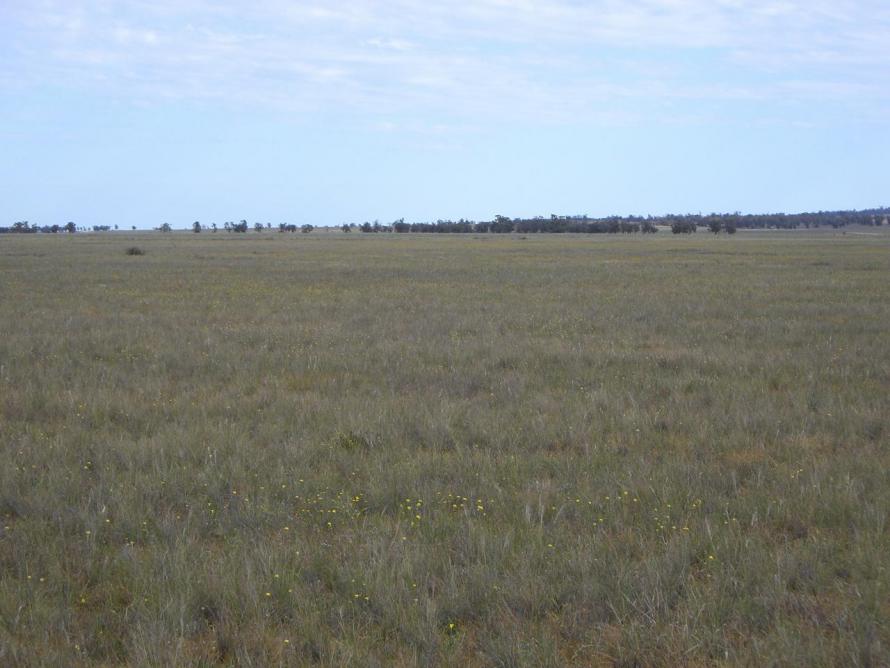 Area Data
https://grasslands.ecolinc.vic.edu.au/sites/default/files/Terrick%20Terrick%20National%20Park.geojson
Description
Terrick Terrick NP conserves the largest, most intact examples of the Natural Grasslands of the Murray Valley Plains and is one of the few places in northern Victoria where the original landscapes and vegetation of the area are largley intact.
Location
Terrick Terrick National Park is 225 km north west of Melbourne and 60 km from Bendigo along the Bendigo -Pyramid Road. The park is 4 km north of Mitiamo. 
Facilities
There are toilets, picnic and camping facilities at the Mt Terrick Terrick Picnic area in the southern section of the park.
Size
3770 ha including 1277 ha of native grasslands
History
The Dja Dja Wurrung Aboriginal people sheltered in the granite outcrops of Terrick Terrick National Park and the surrounding grasslands would have provided food and other resources. European settlement commenced following Major Mitchell's expedition, whose reports encouraged squatters and their sheep to the district. The native grassland sections of Terrick Terrick National Park were 'discovered' by Paul Foreman, a leading grassland ecologist who was undertaking a survey of Victoria's remnant grasslands in the early 90s. The acquisition of the 1,277 ha Davies sheep grazing property in 1997 led to the former Terrick Terrick State Park being declared a National Park in 1998 the first in Australia's Riverina bioregion. Approximately one third of the Davies property had been cropped in the past, which has degraded the biological values in these areas. However, the remaining grasslands host both significant flora and fauna values. The grassland values that exist today are the result of over 100 years of sheep grazing with relatively light stocking rates. 
Signifigance
Terrick Terrick grasslands have significant conservation values and provide habitat for numerous endangered flora and fauna species Twenty - six rare or threatened plant species occur within the grasslands. Annual Buttons and Pepper Grass are endangered species that are only found here within Victoria. The park also contains the largest Victorian populations of the threatened species; Bottle Bluebush, Fragrant Leek-orchid and Murray Swainson-pea. Terrick Terrick National Park is one of only three conservation reserves in Victoria where the Hooded Scaly-foot, considered critically endangered in Victoria, is known to occur. The vulnerable Striped Legless Lizard also occurs in the park. The wooded and open grasslands are home to over 100 species of birds, including the Plains-wanderer, Grey-crowned Babbler, Bush Stone-curlew, Mallee Ringneck Parrot, Barking Owl and Brolga. 
What to look for
Highly diverse grasslands and impressive wildflower displays
Management activities and priorities
Biomass management, maintaining and increasing threatened species populations
Local Requests
On days of forecast Code Red Fire Danger this park will be closed for public safety
Flora Species
Acacia acinacea, Acacia oswaldii, Aira caryophyllea subsp. caryophyllea, Aira cupaniana, Aira elegantissima, Allocasuarina luehmannii, Alternanthera denticulata, Amphibromus spp., Arctotheca calendula, Arenaria leptoclados, Aristida behriana, Arthropodium fimbriatum, Arthropodium minus, Asperula conferta, Aster subulatus, Atriplex leptocarpa, Atriplex semibaccata, Austrostipa aristiglumis, Austrostipa bigeniculata, Austrostipa blackii, Austrostipa elegantissima, Austrostipa gibbosa, Austrostipa nodosa, Austrostipa oligostachya, Austrostipa scabra, Austrostipa tenuifolia, Avena barbata, Avena fatua, Brachypodium distachyon, Briza minor, Bromus alopecuros, Bromus diandrus, Bromus hordeaceus subsp. hordeaceus, Bromus madritensis, Bromus rubens, Bulbine bulbosa, Callitriche sonderi, Calocephalus citreus, Calocephalus sonderi, Calotis anthemoides, Calotis hispidula, Calotis scabiosifolia, Carthamus lanatus, Centaurea melitensis, Centaurium tenuiflorum, Centipeda cunninghamii, Chenopodium desertorum, Chloris truncata, Chrysocephalum apiculatum, Cicendia quadrangularis, Cirsium vulgare, Convolvulus erubescens, Cotula australis, Cotula bipinnata, Craspedia variabilis, Crassula decumbens, Crassula sieberiana, Cressa australis, Cucumis myriocarpus subsp. leptodermis, Cullen parvum, Cynoglossum suaveolens, Cyperus eragrostis, Cyperus exaltatus, Damasonium minus, Daucus glochidiatus, Dichanthium sericeum subsp. sericeum, Drosera auriculata, Muehlenbeckia horrida subsp. horrida, Dysphania pumilio, Eclipta platyglossa subsp. platyglossa, Einadia nutans, Eleocharis acuta, Eleocharis pallens, Eleocharis pusilla, Enchylaena tomentosa, Enteropogon acicularis, Eriochiton sclerolaenoides, Eriochlamys squamata, Erodium botrys, Erodium cicutarium, Erodium crinitum, Erodium moschatum, Eryngium ovinum, Eryngium paludosum, Eucalyptus camaldulensis, Eucalyptus cladocalyx, Eucalyptus largiflorens, Eucalyptus melliodora, Euphorbia drummondii, Galium murale, Goodenia gracilis, Goodenia pusilliflora, Haloragis glauca, Hedypnois rhagadioloides, Helichrysum luteoalbum, Heliotropium europaeum, Helminthotheca echioides, Hordeum murinum, Hyalosperma glutinosum subsp. glutinosum, Hypochaeris glabra, Hypochaeris radicata, Hypochaeris spp., Hypoxis glabella, Isoetopsis graminifolia, Juncus aridicola, Juncus flavidus, Juncus radula, Juncus subsecundus, Lachnagrostis filiformis, Leiocarpa panaetioides, Lepidium africanum, Lepidium bonariense, Leptorhynchos orientalis, Leptorhynchos squamatus, Leptorhynchos tetrachaetus, Levenhookia dubia, Linum marginale, Lolium perenne, Lolium rigidum, Lomandra effusa, Lycium ferocissimum, Lythrum hyssopifolia, Maireana brevifolia, Maireana cheelii, Maireana decalvans, Maireana enchylaenoides, Maireana excavata, Maireana humillima, Maireana pentagona, Malva parviflora, Marrubium vulgare, Marsilea drummondii, Medicago minima, Medicago polymorpha, Medicago sativa subsp. sativa, Medicago truncatula, Mesembryanthemum nodiflorum, Microseris scapigera, Myriocephalus rhizocephalus, Myriophyllum spp., Ophioglossum lusitanicum, Oxalis corniculata, Oxalis perennans, Panicum decompositum, Panicum laevinode, Parapholis incurva, Parentucellia latifolia, Paspalidium constrictum, Paspalum dilatatum, Paspalum distichum, Pentameris airoides subsp. airoides, Persicaria prostrata, Petrorhagia dubia, Phalaris paradoxa, Plantago coronopus, Plantago drummondii, Plantago gaudichaudii, Plantago varia, Poa bulbosa, Pogonolepis muelleriana, Polygonum aviculare, Polygonum plebeium, Polypogon monspeliensis, Ptilotus erubescens, Ptilotus macrocephalus, Ptilotus nobilis, Ptilotus spathulatus, Pycnosorus globosus, Ranunculus pumilio, Rhodanthe corymbiflora, Rhodanthe pygmaea, Romulea minutiflora, Romulea rosea, Rostraria cristata, Rumex brownii, Rumex crispus, Rumex dumosus, Rumex tenax, Rytidosperma caespitosum, Rytidosperma duttonianum, Rytidosperma erianthum, Rytidosperma setaceum, Salsola tragus, Schinus molle, Sclerolaena diacantha, Sclerolaena muricata, Sclerolaena napiformis, Scorzonera laciniata, Sida corrugata, Sida fibulifera, Sida trichopoda, Sisymbrium erysimoides, Sisymbrium officinale, Solanum esuriale, Sonchus asper, Sonchus oleraceus, Spergularia rubra, Sporobolus caroli, Stuartina muelleri, Swainsona behriana, Swainsona murrayana, Swainsona plagiotropis, Swainsona procumbens, Swainsona swainsonioides, Teucrium racemosum, Thysanotus patersonii, Trifolium angustifolium, Trifolium arvense, Trifolium campestre, Trifolium cernuum, Trifolium dubium, Trifolium fragiferum, Trifolium glomeratum, Trifolium repens, Trifolium striatum, Trifolium subterraneum, Trifolium tomentosum, Triptilodiscus pygmaeus, Vittadinia cuneata, Vittadinia gracilis, Vulpia bromoides, Vulpia muralis, Vulpia myuros, Wahlenbergia gracilenta, Wahlenbergia victoriensis, Walwhalleya proluta, Wurmbea dioica, Wurmbea latifolia subsp. vanessae, Xanthium spinosum, Zygophyllum apiculatum
Fauna Species
Black Wallaby, Fat-tailed Dunnart, House Mouse, White-striped Freetail Bat, European Hare, Red Fox, European Rabbit, Eastern Grey Kangaroo, Spotted Marsh Frog, Common Froglet, Common Spadefoot Toad, Plains Froglet, Barking Marsh Frog, Hooded Scaly-foot, Curl Snake, Olive Legless Lizard, Eastern Brown Snake, Boulenger's Skink, Carnaby's Wall Skink, Tessellated Gecko, Striped Legless Lizard, Marbled Gecko, Bearded Dragon, Common Blue-tongued Lizard, Australasian Grebe, Australasian Pipit, Australian Magpie, Australian Owlet-nightjar, Australian Pratincole, Australian Raven, Australian Shelduck, Australian Wood Duck, Banded Lapwing, Black Falcon, Black Kite, Black-faced Cuckoo-shrike, Black-faced Woodswallow, Black-tailed Native-hen, Brolga, Brown Falcon, Brown Goshawk, Brown Songlark, Brown Treecreeper, Chestnut-rumped Thornbill, Cockatiel, Common Starling, Crested Pigeon, Crested Shrike-tit, Diamond Firetail, Dusky Woodswallow, Eastern Rosella, European Goldfinch, Eurasian Skylark, Galah, Grey Fantail, Grey Shrike-thrush, Grey Teal, Hoary-headed Grebe, Horsfield's Bushlark, House Sparrow, Little Button-quail, Little Eagle, Little Grassbird, Little Pied Cormorant, Little Raven, Magpie-lark, Masked Lapwing, Masked Woodswallow, Nankeen Kestrel, Nankeen Night Heron, Noisy Miner, Eastern Barn Owl, Pacific Black Duck, Peaceful Dove, Plains-wanderer, Red-kneed Dotterel, Red-rumped Parrot, Restless Flycatcher, Rufous Whistler, Singing Honeyeater, Southern Boobook, Southern Whiteface, Spotted Harrier, Spotted Pardalote, Straw-necked Ibis, Striated Pardalote, Stubble Quail, Superb Fairy-wren, Swamp Harrier, Tree Martin, Welcome Swallow, Whistling Kite, White-browed Babbler, White-faced Heron, White-fronted Chat, White-necked Heron, White-plumed Honeyeater, White-winged Fairy-wren, Willie Wagtail, Yellow-billed Spoonbill, Yellow-rumped Thornbill, Zebra Finch