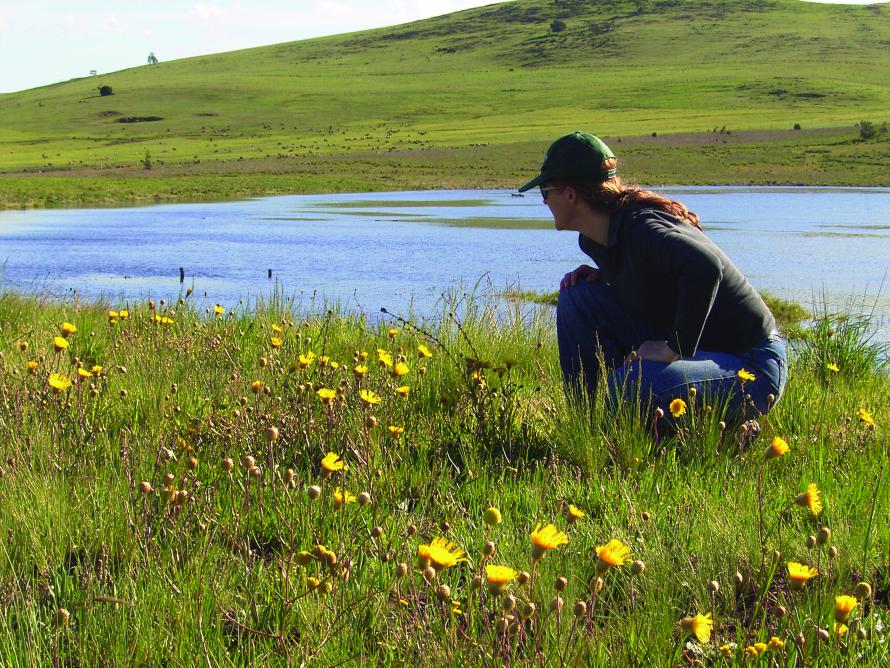 Area Data
https://grasslands.ecolinc.vic.edu.au/sites/default/files/Township%20Lagoon%20Nature%20Reserve.geojson
Description
This very unprepossessing site, east of the town, and adjacent to the town's garbage tip. It includes a salt lagoon with its own interesting flora and the hillside to the west of the lagoon boasts some rare and interesting species. This is a harsh grassland environment and a very interesting place to visit.
Location
800 m east of the Midland Highway on the southern outskirts of the town of Tunbridge in the Tasmanian Midlands
Manager
Parks and Wildlife Service, Tasmania
History
The area was set aside for the future expansion of the town of Tunbridge and remained un-allocated Crown Land until the mid-1980's when its conservation significance was recognised. The reserve was leased for stock-grazing until the 1960s and was proclaimed a nature reserve on 25 December 1991
Signifigance
Township Lagoon Nature Reserve is listed on the Register of the National Estate and also protects one of only four natural salt lakes that occur in Tasmania. Contains a high concentration of endangered, vulnerable and rare plant species including Leucochrysum albicans subsp albicans (Hoary Sunray), Lepidium hyssopifolium (Basalt Pepper-cress), Ranunculus prasinus (Tunbridge Buttercup).
Management activities and priorities
Weed control including Gorse, Salisfy  and Briar Rose. Uncontrolled vehicle access.
Flora Species
Acacia dealbata, Acaena agnipila, Acaena echinata, Acaena ovina, Acrotriche serrulata, Agrostis aemufa, Agrostis capillaris, Aira caryophyllea, Anagallis arvensis, Aphenes arvensis, Apium prostratum, Arrhenatherum elatius, Arthropodium milleflorum, Arthropodium minus, Asperula conferta, Astroloma humifosum, Austrostipa flavescens, Austrostipa nodosa, Austrostipa semibarbata, Austrostipa stuposa, Avena fatua, Bellis perennis, Bossiaea prostrata, Bossiaea riparia, Brachyscome aculeata, Brachyscome rigidula, Briza minor, Bromus catharticus, Bromus diandrus, Bromus hordeaceus subsp. hordeaceus, Bursaria spinosa, Calocephalus lacteus, Capsella bursa-pastoris, Cardaria draba, Carex breviculmis, Centaurium erythraea, Cheilanthes austrotenuifolia, Chrysocephalum apiculatum, Chrysocephalum semipapposum, Cicendia filiformis, Cirsium vulgare, Convolvulus erubescens, Coprosma quadrifida, Cotoneaster giaucophyllus, Cotula coronopifolia, Craspedia sp., Crassula sieberana, Crataegus monogyna, Cynoglossum suaveolens, Cynosurus echinatus, Dactylis glomerata, Daucus glochidiatus, Daviesia ulicifolia, Deyeuxia quadriseta, Dianella longifolia, Dianella revoluta, Dichelachne crinata, Dichelachne rara, Dichondra repens, Distichlis distichophylla, Diuris lanceolata, Drosrera peltata, Echium vulgare, Ehrharta stipoides, Elymus repens, Elymus scaber, Erodium botrys, Erodium cicutarium, Erodium moschatum, Erophila verna, Eucalyptus pauciflora, Fumaria sp., Galium aparine, Galium australe, Galium murale, Geranium potentilloides, Geranium solanderi, Gonocarpus tetragynus, Goodenia lanata, Hibbertia serpyllifolia, Holcus lanatus, Hordeum marinum, Hypericum gramineum, Hypochaeris glabra, Hypochaeris radicata, Hypoxis hygrometrica, Isolepis sp., Leontodon taraxoides, Lepidium hyssopifolium, Lepidosperma inops, Leptorhynchos squamatus subsp. squamatus, Leucochrysum albans, Lilaeopsis polyantha, Lissanthe strigosa, Lolium perenne, Lomandra nana, lsoetopsis graminfolia, Luzula meridionalis, Lydum ftrocissimum, Marrubium vulgare, Medicago lupulina, Medicago polymorpha, Microseris lanceolata, Microtis unifolia, Moenchia erecta, Myosotis discolor, Oxalis perennans, Parentucellia latifolia, Pelargonium australe, Pentapogon quadrifidus, Petrorhagia nanteuilii, Pimelea humilis, Plantago coronopus, Plantago lanceolata, Plantago major, Plantago varia, Poa annua, Poa bulbosa, Poa hookeri, Poa labillardierei, Poa pratensis, Poa rodwayi, Podolepis jaceoides, Poranthera microphylla, Prasophyllum odoratum, Pterostylis commutata, Ptilotus spathulatus, Puccineltia stricta, Pultenaea prostrata, Ranunculus lappaceus, Ranunculus prasinus, Rapistrum rugosum, Romulea rosea, Rosa rubignosa, Rubus fruticosus, Rumex acetosella, Rumex cripsus, Rumex dumosus, Rytidosperma caespitosum, Rytidosperma carphoides, Rytidosperma pilosum, Rytidosperma setaceum, Rytidosperma tenuius, Schoenus absconditus, Schoenus apogon, Scleranthus biflorus, Scleranthus diander, Selliera radicans, Senecio quadridentatus, Seorznera laciniata, Silene galliea, Silybum marianum, Solenogyne dominii, Solenogyne gunnii, Sonchus asper, Sonchus oleraceus, Spergularia media, Spiranthes australis, Stackhousia monogyna, Taraxacum officinale, Thelymitra pauciflora, Themeda triandra, Trachymene humilis, Tragopogon porrifolius, Trifolium dubium, Trifolium glomeratum, Trifolium repens, Trifolium striatum, Trifolium subterraneum, Ulex europaeus, Velleia paradoxa, Veronica gracilis, Vicia sativa, Viola hederacea, Vittadinia cuneata, Vittadinia gracilis, Vittadinia muelleri, Vulpia myuros, Wahlenbergia stricta, Wilsonia rotundifolia, Wurmbea dioica