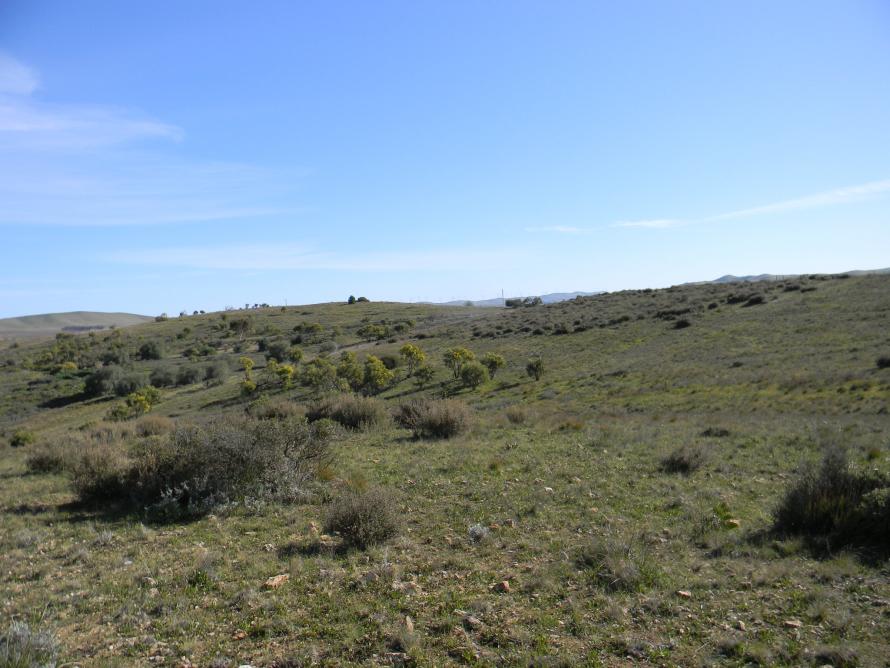 Area Data
https://grasslands.ecolinc.vic.edu.au/sites/default/files/Burra%20Mine.geojson
Description
Old mine area.  Many relics, buildings and mine diggings but most of area retains significant remnant vegetation despite numerous disturbances over the years including grazing.
Location
Middle of the township of Burra, 160 km north of Adelaide 
Facilities
Interpretative signage near Peacocks Chimney
Manager
Goyder Regional Council with some earlier involvement of National Trust of SA Burra Branch
Contacts
Goyder Regional Council (08) 8892 0100.
Burra Visitor Centre (08) 8892 2154
History
Burra is a major heritage area in South Australia  associated with copper mining in the 19th century.
Signifigance
Nationally significant Lomandra effusa, Lomandra multiflora iron-grass grassland.  More than 120 species of native plants, 37 of which are listed as rare or endangered, are protected here. State significant flora species include Acacia spilleriana, Austrostipa pilata, Austrostipa multispiculis, Logania saxatilis, Olearia picridifolia, Podolepis jaceoides, Rumex dumosus, Swainsona tephrotricha
What to look for
The best time to visit is in late spring or early summer when the wildflowers and native grasses are most likely to be flowering. It is usually cooler on an early morning or late afternoon walk and this is a good time of day to see birds and other wildlife.
Management activities and priorities
Occasional restoration activities mainly weed control and fence maintenance.
Local Requests
Please keep dogs out of reserve
Flora Species
Acacia calamifolia, Acacia pycnantha, Acacia spilleriana, Acacia victoriae subsp. victoriae, Acaena echinata, Acrotriche patula, Ajuga australis, Allocasuarina verticillata, Anthosachne scabra, Aristida behriana, Arthropodium fimbriatum, Arthropodium strictum, Asperula conferta, Atriplex angulata, Atriplex semibaccata, Atriplex stipitata, Austrostipa acrociliata, Austrostipa blackii, Austrostipa elegantissima, Austrostipa eremophila, Austrostipa multispiculis, Austrostipa nodosa, Austrostipa pilata, Austrostipa platychaeta, Austrostipa puberula, Austrostipa scabra subsp. falcata, Brachyscome sp, Bulbine bulbosa, Bursaria spinosa, Callitris gracilis, Calostemma purpureum, Calytrix tetragona, Carex breviculmis, Chrysocephalum apiculatum, Chrysocephalum baxteri, Chrysocephalum semipapposum, Clematis microphylla, Convolvulus angustissimus, Convolvulus remotus, Craspedia glauca, Cymbopogon ambiguus, Dianella revoluta, Dodonaea baueri, Einadia nutans ssp. nutans, Enchylaena tomentosa, Enneapogon nigricans, Eucalyptus leucoxylon ssp. pruinosa, Euphorbia drummondii, Eutaxia microphylla, Gahnia lanigera, Geranium retrorsum, Glycine clandestina, Goodenia albiflora, Goodenia pinnatifida, Goodenia pusilliflora, Helichrysum leucopsideum, Hyalosperma semisterile, Hydrocotyle laxiflora, Hypoxis glabella, Isoetopsis graminifolia, Lepidosperma viscidum, Leptorhynchos squamatus, Leptorhynchos waitzia, Linum marginale, Logania saxatilis, Lomandra collina, Lomandra densiflora, Lomandra effusa, Lomandra multiflora ssp. dura, Maireana enchylaenoides, Maireana lobiflora, Maireana rohrlachii, Melaleuca lanceolata ssp. lanceolata, Minuria leptophylla, Olearia picridifolia, Oxalis perennans, Phyllanthus saxosus, Pimelea curviflora, Pimelea micrantha, Pittosporum phylliraeoides, Plantago gaudichaudii, Poa crassicaudex, Podolepis jaceoides, Pomaderris paniculosa ssp. paniculosa, Prasophyllum odoratum, Pterostylis robusta, Ptilotus spathulatus, Rumex dumosus, Rytidosperma caespitosum, Salsola tragus, Santalum acuminatum, Sclerolaena sp., Sida petrophila, Stackhousia monogyna, Swainsona tephrotricha, Thysanotus baueri, Thysanotus patersonii, Tricoryne elatior, Velleia arguta, Velleia paradoxa, Vittadinia australasica, Vittadinia blackii, Vittadinia cuneata, Vittadinia gracilis, Vittadinia megacephala, Wahlenbergia communis, Wahlenbergia luteola, Wurmbea dioica subsp. dioica, Zygophyllum aurantiacum subsp. aurantiacum, Zygophyllum crenatum, Zygophyllum glaucum 
Fauna Species
A range of reptiles and birds use the reserve.