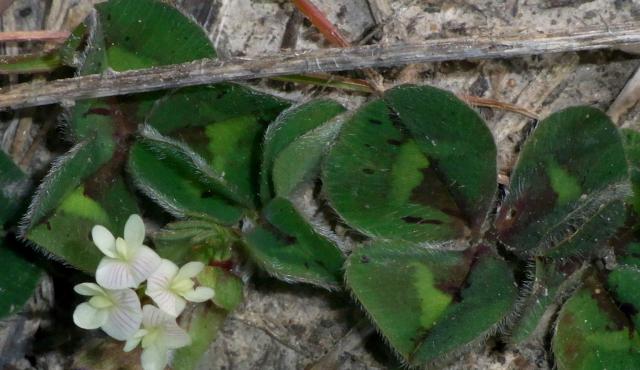 Prostrate introduced herb with few stems, up to 35 cm long. Leaves divided into three leaflets up to 25 mm long and 25 mm wide. The clustered white and pink striped flowers.
---
Details
Flora Type
Other Common Names
Distinctive Features

The inflorescence has three to six fertile flowers with petals and many infertile flowers without petals. These help to anchor and ultimately bury the developing fruits in the soil.

Biology

Annual. Grown for pasture improvement and now established across much of Vic. Tolarates poor-quality soil where other clovers cannot survive. Grown commercially for animalÃ_fodder. Its use revolutionised farming practices in the 1920Õs in rural SA.

Native Status
Flowering Time
Taxonomy
Phylum

Tracheophyta (Vascular Plants)

Class

Magnoliopsida (Flowering Plants)

Order
Family
Genus
Species
Native to northwesternÃ_Europe. This species is a complex containing numerous cultivars and forms.
---
Interesting Facts
Similar Species

There are three distinct subspecies used inÃ_agriculture, each with its own ideal climate and soil type, allowing for wide distribution of the plant over varied environments.

Native Status