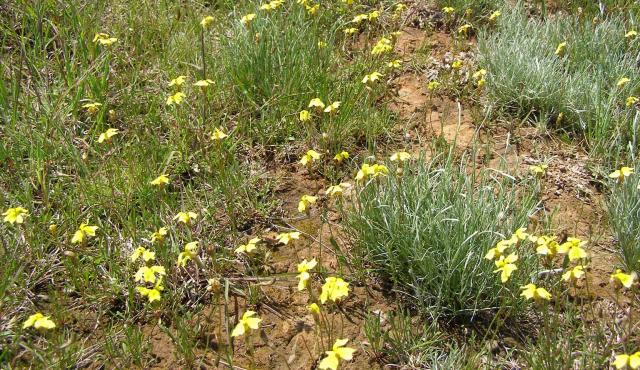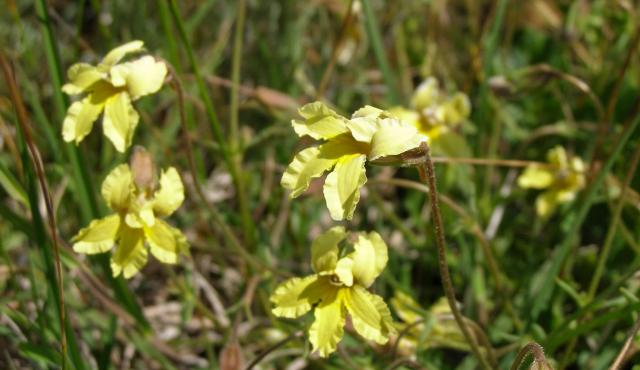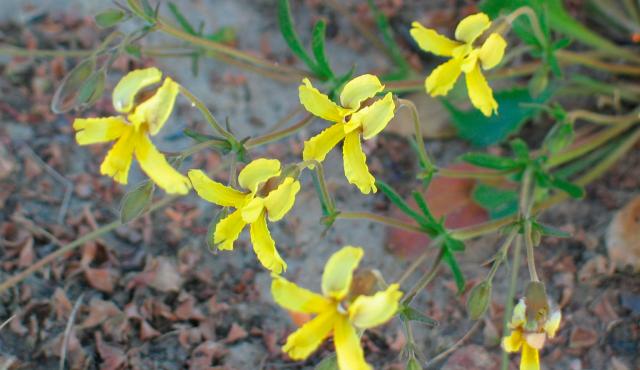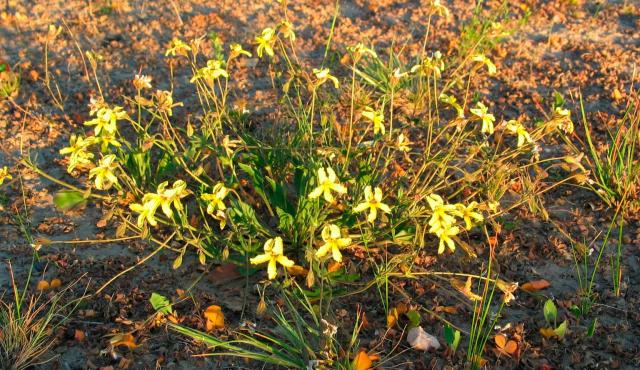 Small softly downy herb to 50 cm tall with forked stems. Bluntly toothed long-tapering bright green leaves forming a rosette at ground level. Leaves glossy dark green, oblong, to 20 cm long. Leaf stem may be as long as the leaf. Flowers yellow with five petals to 3 cm wide. Flowering stems usually 2 to 4 times as long as the leaves.
---
Details
Flora Type
Distinctive Features

Bright yellow flowers with unequally sized lobes, a nectar-producing spur present at the base of the flower and wings to 3 mm wide. Ring of leaf-like bracts or stem leaves up to 4 mm long under the flowerheads.

Biology

Perennial. Short-lived. Moist well-drained soils. May die back to a rootstock by the end of summer and resprout in winter. Resprouts after fire. Needs bare ground where its seeds can germinate. Very sensitive to grazing by introduced animals. Often grows in colonies.

Native Status
Flowering Time
Taxonomy
Phylum

Tracheophyta (Vascular Plants)

Class

Magnoliopsida (Flowering Plants)

Order
Family
Genus
Species
Broad transparent rim around the seed which is jelly-like or mucilaginous when wet, sticking to the fur of animals which transport it to other sites. It also helps adhere it to the ground in wet conditions suitable for germination.
---
Interesting Facts
Similar Species

Similar to Goodenia pinnatifida which has leaves that are more deeply lobed or toothed, and smaller leaf-like bracts at the forks in the stems.

Native Status