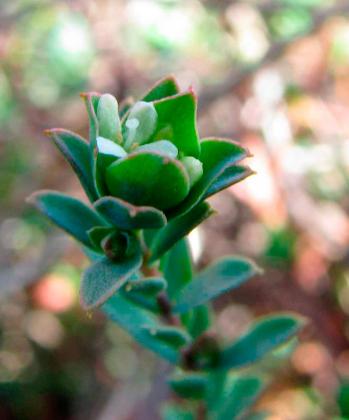 Pimelea spinescens ssp. spinescens
---
Low stunted shrub with spiny branchlets. Crowded blue-green oval leaves. Tiny pale yellow hairless tubular flowers.
---
Details
Flora Type
Distinctive Features

The only Pimelea species to have spines.

Biology

Perennial. Well-drained soils on basalt.

Native Status
Flowering Time
Taxonomy
Phylum

Tracheophyta (Vascular Plants)

Class

Magnoliopsida (Flowering Plants)

Order
Family
Genus
Species
Nationally threatened. Only a few remant populations on the western basalt plains in Vic remaining.
---
Interesting Facts
Similar Species

P. spinescens subsp. pubiflora has flowers that are hairy on the outer surface, whereas those of the P. spinescens subsp. spinescens are hairless.

Native Status