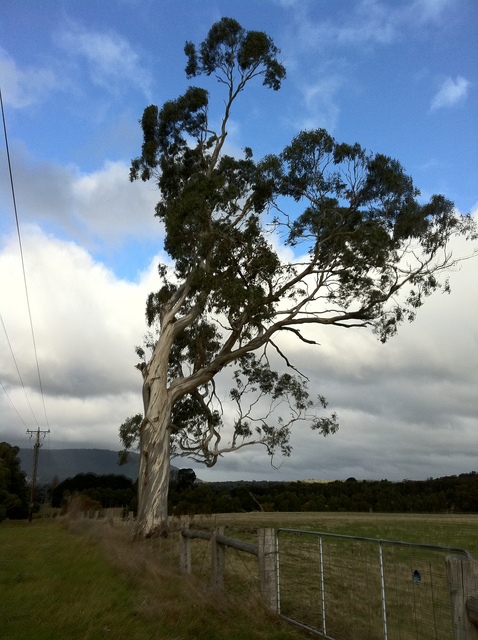 Rounded, low-branching rounded tree to 30 m with a white to creamy trunk. Bark smooth and waxy blue on the smaller branches. Thick shiny-grey to olive green adult leaves to 16 cm long are lance-shaped. Juvenile bluish-green leaves are oval. Eleven or more club-shaped buds per cluster on thick stalks.
---
Details
Flora Type
Former Scientific Name

E pauciflora var. pauciflora

Other Common Names
Distinctive Features

Adult leaves have distinctive parallel veins. Some forms are distinctly weeping in form. Cup-shaped fruit on shortstalks with 3 valves level with the rim. Disk flat.

Biology

Perennial. Well-drained soils, often deep sands in grassy woodland and grassy forests, and as scattered tree in grasslands. Tolerates severe cold, often occurs on the margins of frost hollows. Its hardiness make it a popular choice for revegetation projects.

Native Status
Taxonomy
Phylum

Tracheophyta (Vascular Plants)

Class

Magnoliopsida (Flowering Plants)

Order
Family
Genus
Species
The seed and inner bark of some Eucalyptus species were used as a food source by Aboriginal people, as well as the gum and leaves for medicial purposes and wood and bark for fibre. Important source of honey. Important food source for some insects and birds.
---
Interesting Facts
Similar Species
Native Status