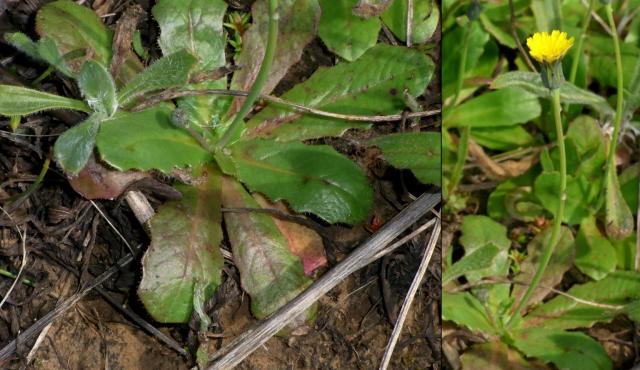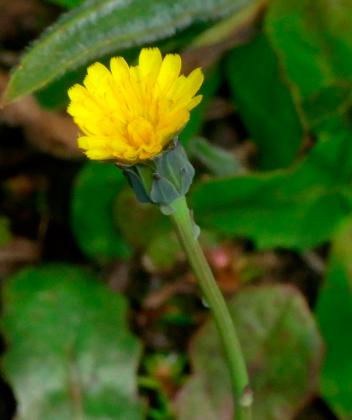 Small introduced daisy 10-40 cm tall (very small on poor sites) with a smooth stem and a small taproot. Green oval leaves, 2-15 cm long and 0.5-3 cm wide, forming a small rosette at the base. Soft yellow daisy made up of lots of overlapping notched yellow ray petals, sometimes purplish on outer edges.
---
Details
Flora Type
Former Scientific Name
Distinctive Features

All leaves at ground level, forming a rosette.

Biology

Annual weed. Found in lawns, gardens, roadsides and pastures, but also in native grasslands and woodlands. Possibly the taproot was harvested as a food source by Aboriginal people post-European contact.

Native Status
Flowering Time
Taxonomy
Phylum

Tracheophyta (Vascular Plants)

Class

Magnoliopsida (Flowering Plants)

Order
Family
Genus
Species
From the Latin hypo = under, choiros = pig, possibly referring to the underground tubers being eaten by pigs. Seeds are dispersed via the wind and animals. Stems of this, and related daisies, exude a white sap when broken.
---
Interesting Facts
Similar Species

The leaves have strongly toothed or lobed margins distinguishing this species from the native Plains Yam Daisy Microseris scapigera, which has only a few, small teeth or lobes.

Native Status