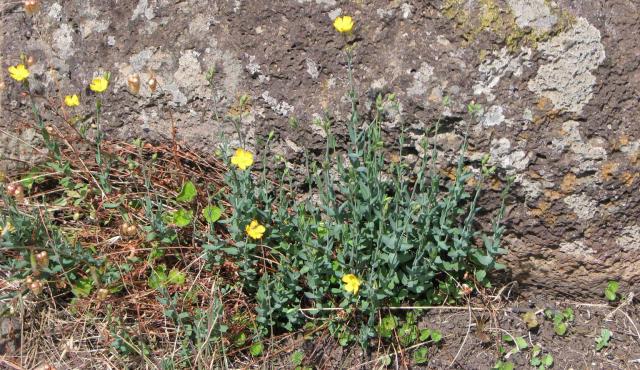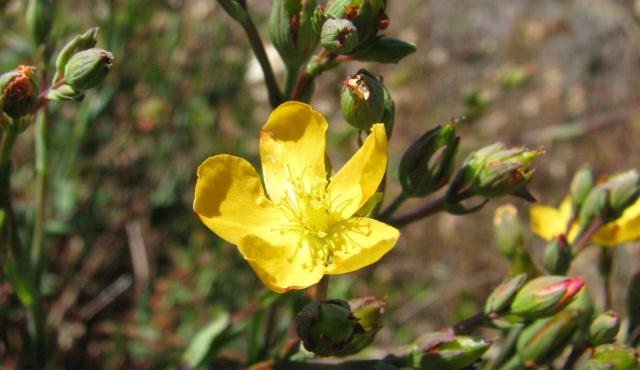 An erect herb growing to 40 cm tall with four-ridged stems. Oblong leaves are a bluish-green colour, in opposite pairs, and have wavy leaf margins. Flowers are orange-yellow in colour and cup-shaped on the ends of four-sided stems longer than the leaves Leaves curve backwards.
---
Details
Flora Type
Distinctive Features

Flowerstems with four ridges, longer than the leaves.

Biology

Perennial. Flowers have both male and female parts. Insect pollinated.

Native Status
Flowering Time
Taxonomy
Phylum

Tracheophyta (Vascular Plants)

Class

Magnoliopsida (Flowering Plants)

Order
Family
Genus
Species
This native Australian species can coexist with the introduced St John's Wort and is often confused with it. This species can be distinguished by the presence of four longitudinal ridges on the stem while the introduced species has only two, and also has black dots (oil glands) on the leaves and petals.
---
Interesting Facts
Similar Species

Very similar to H. japonicum but has an erect habit, larger leaves which curve backwards, and it tolerates a drier habitat.

Native Status