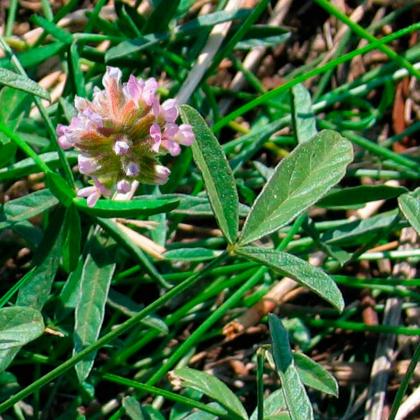 Trailing or upright native pea with thin wiry stems up to 50 cm long. Leaves lance-shaped up to 25 mm long and 8 mm wide. The colour of the pea flowers varies from bluish-pink to lilac.
---
Details
Flora Type
Distinctive Features

Brownish peapod covered in soft furry hairs and has one yellowish seed.

Biology

Perennial. Grows in native grasslands and grassy woodlands that are occasionally flooded. Woody rootstock up to 80 cm underground. The wiry stems usually die off after nine months and new stems resprout every spring. Can produce seeds over a long period if there is enough soil moisture.

Native Status
Flowering Time
Taxonomy
Phylum

Tracheophyta (Vascular Plants)

Class

Magnoliopsida (Flowering Plants)

Order
Family
Genus
Species
Threatened species. Some Cullen species are being investigated as low rainfall drought-resistant pasture species. Highly palatable to grazing animals.
---
Interesting Facts
Similar Species

Looks similar to Tough Scurf-pea C. tenax which 5-7 leaflets instead of three. Strawberry Clover Trifolium fragiferumis a similar weed with leaves larger and rounder than those of Small Scurf-pea.

Native Status