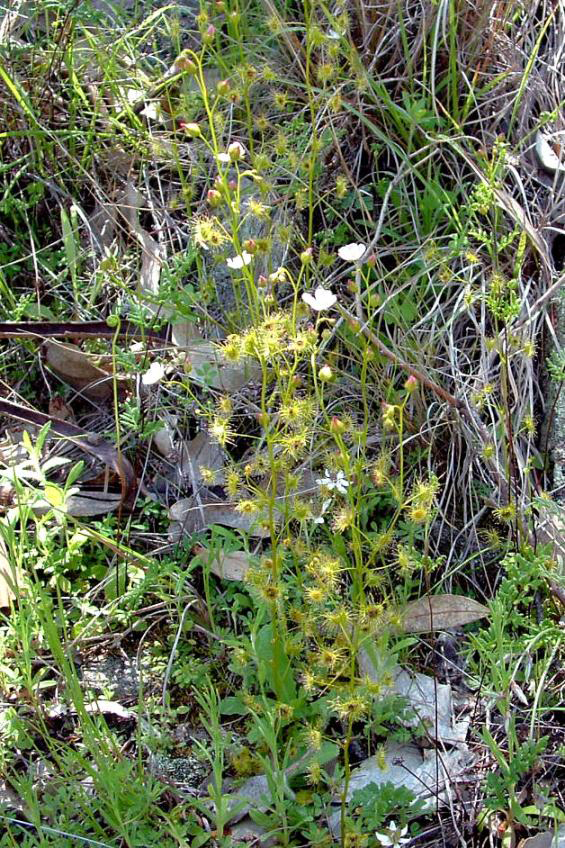 Carnivorous climbing or scrambling perennial herb, tuberous, basal leaves flat to soil, and shield-shaped leaves 5-15 mm long, often tinged with variable amounts of red (or even solid red), on 5 mm stalks on stem to 50 cm high, simple or branched. Flowers, 2-8, generally white or light pink.
---
Details
Flora Type
Former Scientific Name

Drosera peltata ssp. peltata

Other Common Names
Distinctive Features

Insectivorous plant with basal rosette of leaves that in sun glisten like dew, and flowers on long stalk to 50 cm.

Biology

Perennial. Widespread in moist situations. Tolerates disturbance. Often survives in grazed sites. Can survive drought as a dormant underground tuber.

Native Status
Flowering Time
Taxonomy
Phylum

Tracheophyta (Vascular Plants)

Class

Magnoliopsida (Flowering Plants)

Order
Family
Genus
Species
Traps small insects using the sticky hairs around the margins of the leaves. These hairs contain a gland that releases digestive enzymes.
---
Interesting Facts
Similar Species

This genus is is either a single extremely variable species, or a complex of several closely related species. D. auriculata is similar but is distinguished by having less pronounced basal leaves.

Native Status