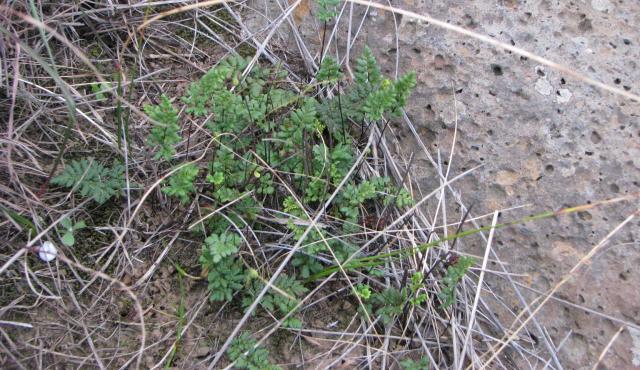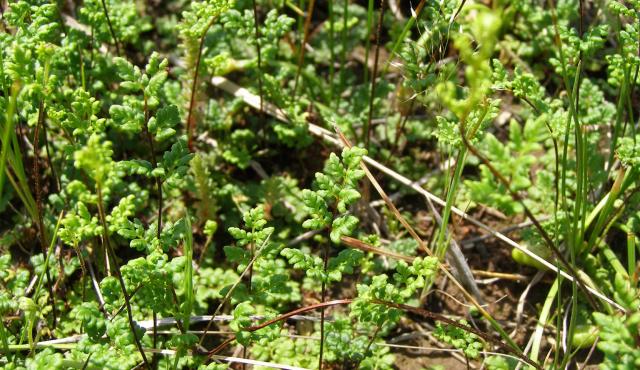 Cheilanthes austrotenuifolia
---
Erect or drooping fern to 45 cm with short, creeping or semi-erect rhizomes. Hairless fronds are close together along the rhizome or are clustered at the tip. The blade of the leaf (lamina) is triangular and covered in narrow pointed scales. The spore-bearing structures are partly enclosed by an overlapping margin of the leaf lobes.
---
Details
Flora Type
Former Scientific Name

Cheilanthes tenuifolia ssp. tenuifoila

Distinctive Features

Characteristic triangular leaf blades and hairless stems or fronds.

Biology

Grows amongst rocks, boulders and in rock crevices, also along streams, on slopes and in open-forest valleys.

Native Status
Taxonomy
Phylum

Tracheophyta (Vascular Plants)

Class
Order
Family
Genus
Species
This fern spreads via its creeping rhizome as well as propagation via spores.
---
Interesting Facts
Similar Species

Similar to C. sieberi subsp. pseudovellea which has upper and lower leaf surfaces covered with twisted hairs. This species is hard to separate from C. sieberi subsp. sieberi which has fronds that are broadly triangular in outline.

Native Status