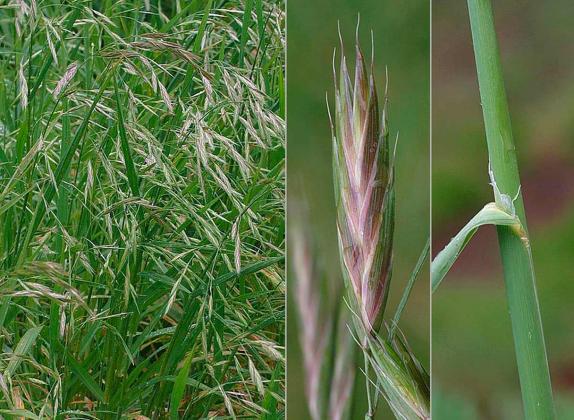 Densely tufted introduced grass to 100 cm tall with flat rough leaves. The flattened flowerheads are large and wide with 6-12 relatively large individual flowers (florets) up to 20 mm long.
---
Details
Flora Type
Distinctive Features

Flowerheads are large, containing dense flower clusters, and have a nodding appearance. The seedheads lack the bristle or awn characteristic of Bromes, or if present it is much reduced.

Biology

Perennial. Occurs over a wide environmental range however is most abundant in cooler, wetter sites. Rarely invades undisturbed plant communities.

Native Status
Flowering Time
Taxonomy
Phylum

Tracheophyta (Vascular Plants)

Class

Magnoliopsida (Flowering Plants)

Order
Family
Genus
Species
Introduced to Australia from South America as a pasture grass because of its feed quality and ability to grow in cooler times of the year. Has not persisted in pasture but is now widespread as a weed in temperate Australia.
---
Interesting Facts
Similar Species

Similar to Short Brome B. brevis and to B. catharticusÃ_var.Ã_rupestris which is softly hairy and has a bluish appreance and has shorter more compact flowerheads.

Native Status