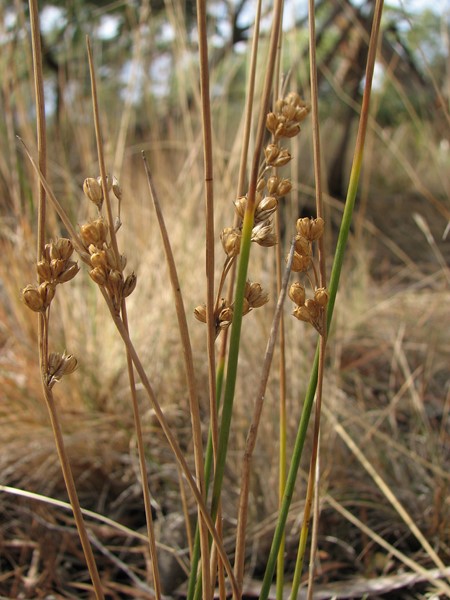 Rhizomatous rush to 60 cm tall forming small clumps. Small fawn or pinkish leaves to 12 cm long at the base of the plant, tightly sheathing the stems.
---
Details
Flora Type
Distinctive Features

Wiry ridged blue-green stems with fewer (c. 20) coarser ridges.

Biology

Perennial. Occurs in drier environments than many rushes at a range of elevations from sea-level to the alpine zone. Introduced NZ.

Native Status
Flowering Time
Taxonomy
Phylum

Tracheophyta (Vascular Plants)

Class

Magnoliopsida (Flowering Plants)

Order
Family
Genus
Species
The seed of some Juncus species was possibly eaten as a food source by Aboriginal people, and the stems were used as fibre for string and basket-making, by Aboriginal people.
---
Interesting Facts
Similar Species

Very variable species and hybridises with at least nine other species.

Native Status