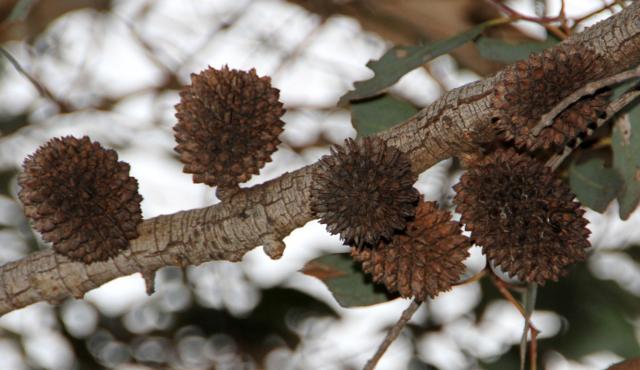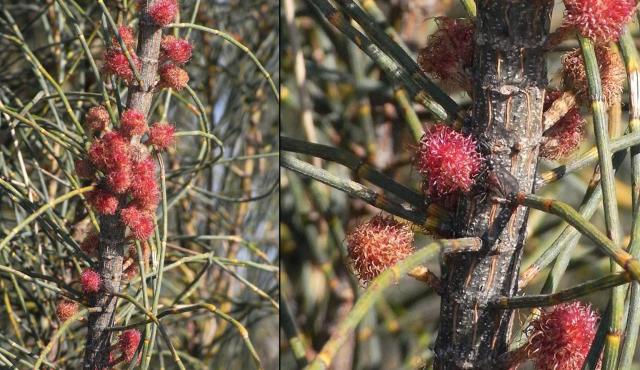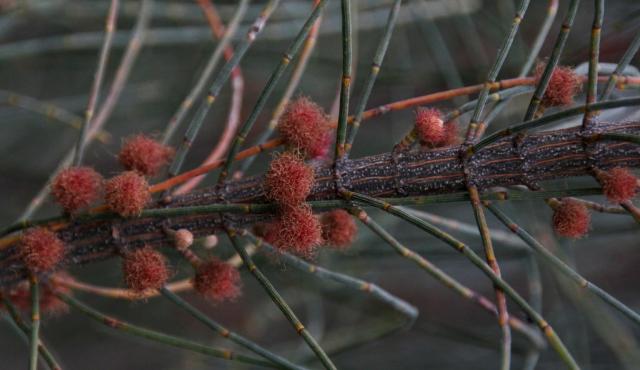 Allocasuarina verticillata
---
Tree growing to a height of 10 m with rounded habit. Thick, dark grey bark. Grey-green crown with drooping visibly ribbed branchlets. The leaves on this plant are reduced to ribs on the branchlets which end in leaf teeth. Male flowers are yellowish-brown spikes while female flowers are sessile. Large barrel-shaped cones form on the female plant.
---
Details
Flora Type
Former Scientific Name

Casuarina stricta, Allocasuarina stricta

Distinctive Features

Pendulous foliage and pointed cone valves. Many segments along each branch each ending in a whorl of 9-13 minute spreading teeth which do not overlap.

Biology

Perennial. Well-drained soils in deep sun. Nitrogen-fixing plant living symbiotically with mycorrhizal fungi. This enables the plant to fix nitrogen and absorb nutrients provided by the fungi which is attached to the root system. A very drought-resistant species.

Native Status
Flowering Time
Taxonomy
Phylum

Tracheophyta (Vascular Plants)

Class

Magnoliopsida (Flowering Plants)

Order
Family
Genus
Species
Important food for birds, and in particular is the preferred food food for the Glossy Black Cockatoo on Kangaroo Is. Nitrogen-fixing. Young stems and food used as food by Aboriginal people, and the wood used for spears, clubs and fibremaking (Tas). Separate male and female plants, pollinated by the wind. The male plant produces masses of pollen and female flowers are designed to hang from the tree enabling them to catch the pollen.
---
Interesting Facts
Similar Species
Native Status