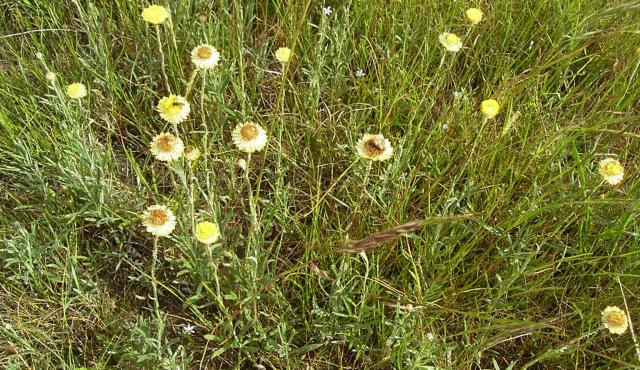 Erect mostly unbranched woolly everlasting daisy spreading by underground stems to form a dense mat. Woolly green leaves to 9 cm at the base of the plant with smaller leaves all the way up the stem. Single bright yellow flowers with a flat golden centre surrounded by papery yellow petal-like bracts.
---
Details
Flora Type
Former Scientific Name

Helichrysum scorpioides, H. rutidolepis

Distinctive Features

Single golden everlasting daisy flowers arising from a matted grey-green plant.

Biology

Perennial. Widespread on well-drained soils, generally in woodlands and dry forests rather than grasslands.

Native Status
Flowering Time
Taxonomy
Phylum

Tracheophyta (Vascular Plants)

Class

Magnoliopsida (Flowering Plants)

Order
Family
Genus
Species
Foodplant for caterpillars and source of nectar for butterflies and moths. Helichrysum are now recognised as African and Eurasian plants and Australian members have been reclassified into a number of groups including Coronidium.
---
Interesting Facts
Similar Species

Synonymous with two key forms are identified - an erect, mostly lowland form (Helichrysum scorpioides) and a spreading upland formÃ_(known asÃ_Helichrysum rutidolepis).

Native Status