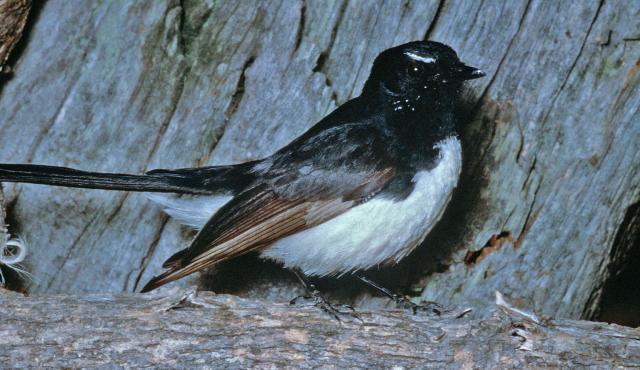 ---
Details
Type
Group
Biology

If conditions are favorable will breed throughout the year, but generally between August and December. The nest is a small cup of grass bound with spider's web placed on a horizontal branch 1-15 m high. Clutch size is between 2 and 4 and when seasons are favorable up to 4 clutches are raised. Eggs are incubated for 14-15 days by both parents. Young stay until the next clutch hatches and are then driven away. The nest is defended aggressively.

Distinctive Markings

Black throat, white eyebrows and whisker marks.
Taxonomy
Phylum
Class
Order
Family
Genus
Species
---
Found throughout mainland Australia. Absent from Tasmania. Also found in New Guinea, Solomon Islands, Bismarck Archipelago and the Moluccas.
Source: Atlas of Living Australia
The name wagtail originates from the sideways wagging of the tail.
---
Interesting Facts
Diet

Carnivore. Insects from the ground and the air.

Habitat

Prefers open country and farms. Avoids dense forest.

Native Status