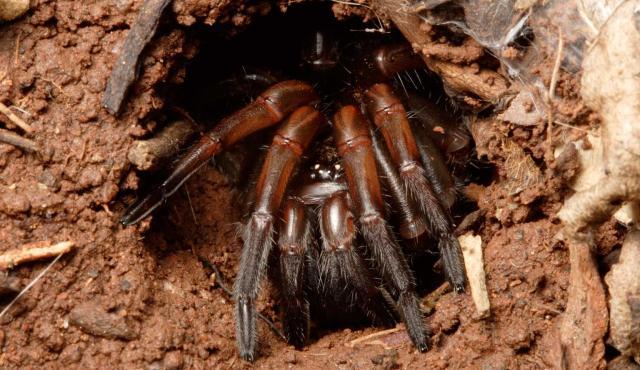 ---
Details
Type
Group
Biology

Feeds at night, catching its prey by waiting for an insect to 'trip' the silken threads outside the burrow. It then rushes out to grab its prey. Despite its common name, the entrance of this spider's burrow does not have a 'trap-door'. Trap-door spiders can live up to 20 years.

Distinctive Markings

A large spider with a dark, mottled rib-like pattern on the upper surface of its abdomen.
Taxonomy
Phylum
Class
Order
Family
Genus
Species
Trapdoor spiders are grouped with the ‰Û÷primitive spiders‰Ûª or mygalomorphs, all of which have parallel downward pointing fangs, so in order to bite they need to rear back to bring their fangs down in a striking action. It is not just the Sydney Funnel-web that rears back to strike.
---
Interesting Facts
Diet
Habitat

A ground-dwelling spider that digs silk-lined burrows up to 40 cm deep in soft earth.

Native Status