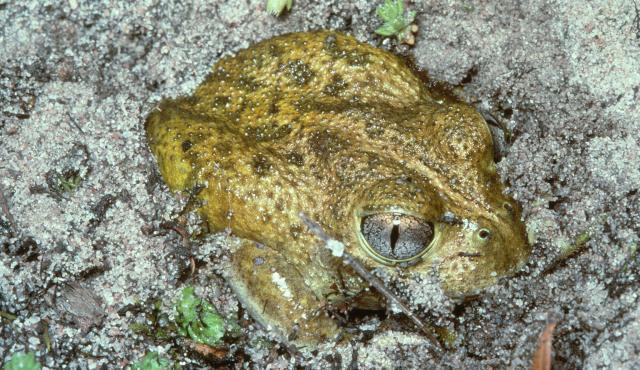 ---
Details
Type
Group
Former Scientific Name
Other Common Names
Biology

Breeding season: autumn and spring. Females lay 560-935 pigmented eggs within long jelly strings around submerged vegetation.

Distinctive Markings

Adults have a vertical pupil and a black hardened protrusion from the heel of the hindfoot (metatarsal tubercle). Loose skin from the groin extends along the side of the body to the knee providing the nickname 'baggy pants frog'. Blunt snout and indistinct tympanum.
Taxonomy
Phylum
Class
Order
Family
Genus
Species
---
Non coastal Victoria and New South Wales, southern Queensland and the extreme south-east and north-east of South Australia.
Source: Atlas of Living Australia
The name of this species has recently been emended to end in 'ae' as it was named after a Miss J. Sudell, the collector of the type specimen. Consequently, as the species name is not of Latin origin, a feminine temination to the name is required.
---
Interesting Facts
Diet

Carnivore. Adults feed on invertebrates.

Habitat

Open grassland and woodland. Remains buried in soil, becoming active following rain.

Native Status