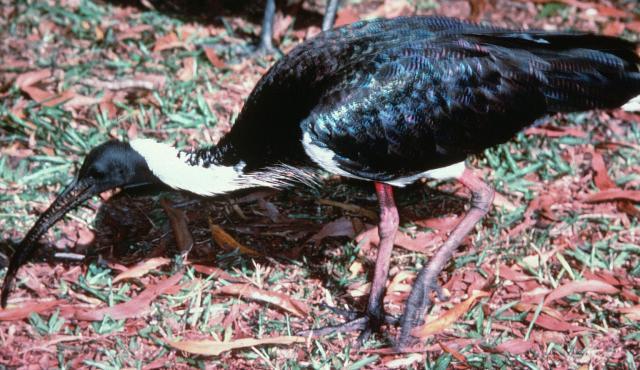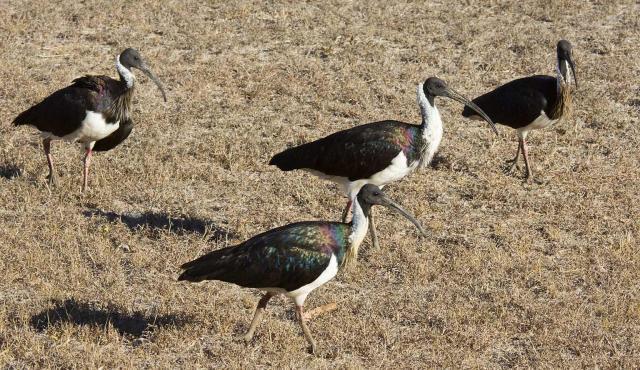 ---
Details
Type
Group
Biology

Breeding season is from July to December in southern parts of Australiia. Often breeds throughout the year after heavy rain. Breeding occurs in colonies with other species including Australian Ibis, egrets and spoonbills. Builds a large, rough platform on dense reed beds. Three to five dull, off-white eggs are laid. Both sexes incubate and feed the young. Incubation period lasts 20-25 days. Young fly at 30-40 days.

Distinctive Markings

Straw-like neck feathers.
Taxonomy
Phylum
Class
Order
Family
Genus
Species
---
Across mainland Australia and vagrant to Tasmania. Also found in Indonesia, New Guinea, Norfolk Island and Lord Howe Island.
Source: Atlas of Living Australia
Straw-necked Ibis fly long distances. One recorded distance was over 3500 km.
---
Interesting Facts
Diet

Carnivore. Terrestrial invertebrates including grasshoppers and locusts, also frogs, small reptiles and mammals.

Habitat

Grassland, wet or dry. Often found on cultivated and irrigated pasture. Shallow wetlands. Rarely arid or marine environments.

Native Status