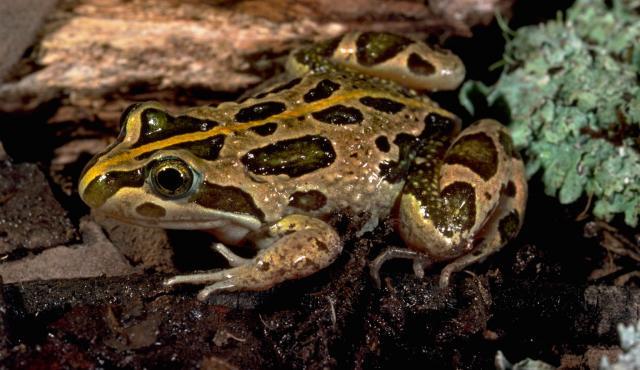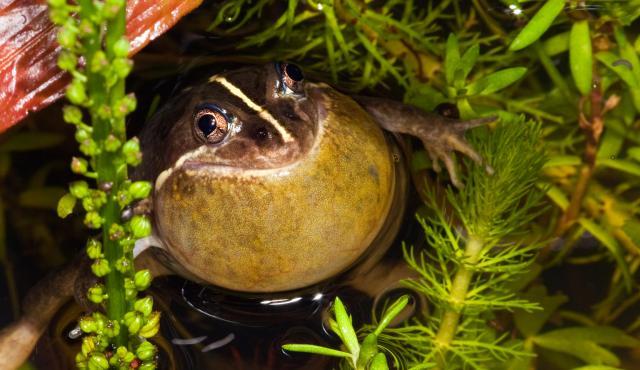 Limnodynastes tasmaniensis (southern call race)
---
---
Details
Type
Group
Other Common Names
Biology

Breeding season: autumn, spring-summer. Females lay 80-1500 pigmented eggs within a floating foam mass.

Distinctive Markings

Adults generally have a smooth pale grey-brown dorsal surface with large olive green spots, and a yellow, red or orange mid-dorsal stripe. Moderately pointed snout and indistinct tympanum.
Taxonomy
Phylum
Class
Order
Family
Genus
Species
---
South-eastern and north-eastern Australia from South Australia throughout eastern Tasmania, Victoria, New South Wales, and southern and central Queensland.
Source: Atlas of Living Australia
Will breed all year except during cold winter months. Tadpoles are varied in colour.
---
Interesting Facts
Diet

Carnivore. Insects including beetles, moths, cicadas and caterpillars, also spiders and other invertebrates.

Habitat

Wet areas, flood plains and semi-permanent water in open forests, woodlands, shrublands and grasslands. Common in farm dams. In dry periods finds shelter in cracks in the ground or under large rocks.

Native Status