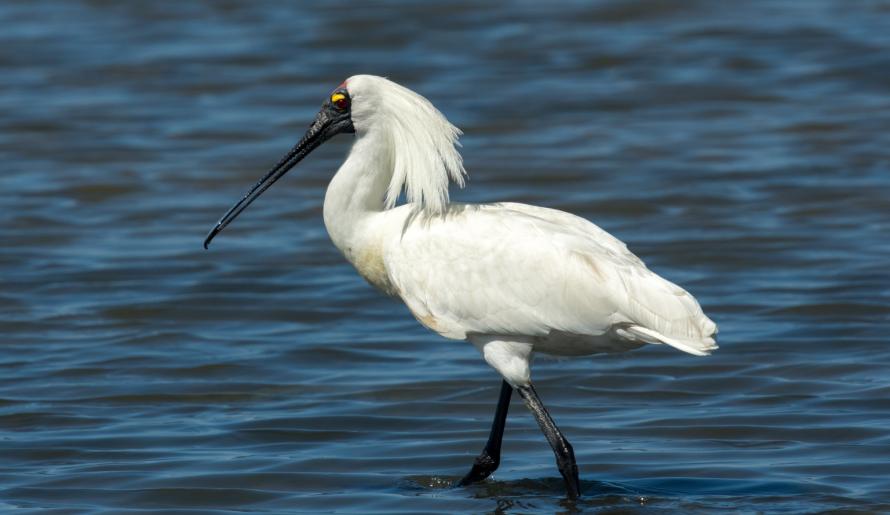 ---
Details
Type
Group
Biology

Breeding season: October to March. Clutch size is two to four. Forms monogamous pairs for the duration of the breeding season. Nests in colonies alongside many other waterbirds, including Yellow-billed Spoonbills, ibises, herons and cormorants. Nest is a solid bowl-shape bulit with sticks and twigs lined with leaves and water plants, usually placed in the crown of a tree over water or among high reeds and rushes. Nest sites may be reused year after year. Both sexes incubate the eggs and feed the young. When threatened at the nest, the adult birds will raise all their feathers to appear much larger and crouch down low over the nest.

Distinctive Markings

Black, spoon-shaped bill.
Taxonomy
Phylum
Class
Order
Family
Genus
Species
The Royal Spoonbill can feed faster and on larger prey than the Yellow-billed Spoonbill, as it has a shorter, broader bill with more papillae (touch receptors) inside the spoon.
---
Interesting Facts
Diet

Carnivore. Feeds on fish in freshwater, and on shrimps in tidal flats. It will also eat other crustaceans and aquatic insects.

Habitat

Found in freshwater wetlands and swamps, and saltwater and brackish coastal areas.

Native Status