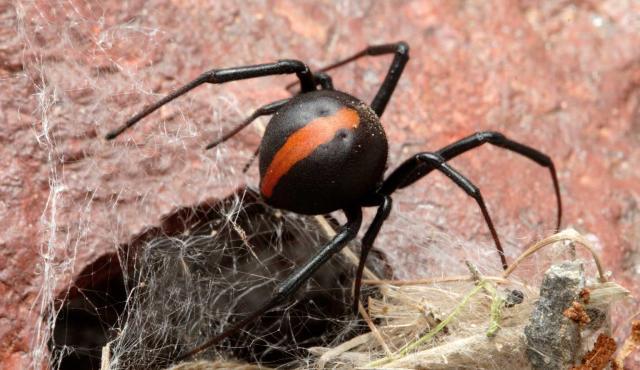 ---
Details
Type
Group
Biology

Females mature in approximately four months and can live for 2-3 years. The smaller male matures in about 90 days and lives for 6-7 months. The round egg sacs are 1 cm wide, suspended within the web. They are woolly and white, turning brown over time. Each egg sac contains approximately 250 eggs. Spiderlings are cannibalistic and will eat unhatched eggs and other spiderlings.

Distinctive Markings

Black, round body with very obvious orange to red stripe on their upper abdomen.
Taxonomy
Phylum
Class
Order
Family
Genus
Species
Spiderlings disperse in the wind to new locations.
---
Interesting Facts
Diet

Carnivore. Eats mainly insects but can also catch and eat small lizards, male trapdoor spiders and king crickets. They are eaten by Daddy Long-legs spiders and white-tailed spiders.

Habitat

Builds webs in dry, sheltered sites such as amongst rocks, in logs, shrubs, stacked materials, sheds or outdoor furniture and toilets. Found in habitats ranging from bushland to urban areas.

Native Status