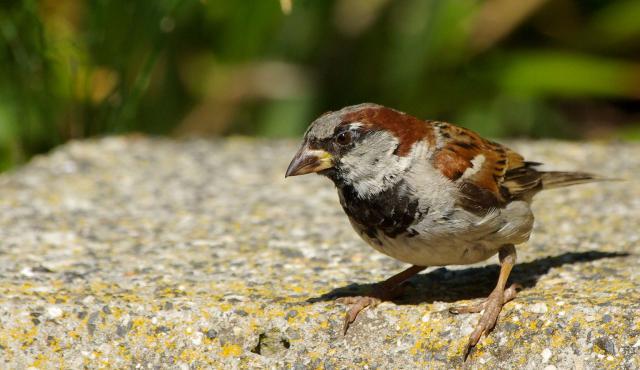 ---
Details
Type
Group
Biology

Breeds spring and summer. Builds a bulky domed nest in buildings, tree hollows or shrubs. Pairs mate for life. The female incubates the eggs but both male and female build the nest and care for the young.

Distinctive Markings

The male has a distinctive grey crown, black face and throat which extends to the chest in the breeding season.
Taxonomy
Phylum
Class
Order
Family
Genus
Species
---
Native to north-west Africa and Eurasia. Widespread in eastern Australia and Tasmania including South Australia and the Northern Territory.
Source: Atlas of Living Australia
House Sparrows were introduced to Australia from Britain in the 1860s.
---
Interesting Facts
Diet

Omnivore, feeding on a wide range of food including invertebrates, seeds, flower buds, berries and food scraps.

Habitat

Parks, cities, towns, farmlands, crop growing areas.

Native Status