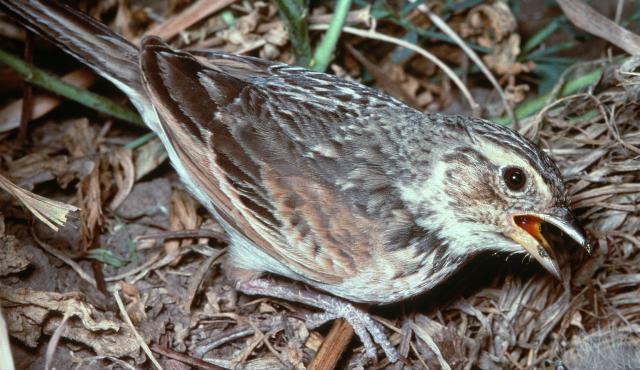 ---
Details
Type
Group
Other Common Names

Singing Bushlark, Australian Skylark

Biology

Breeds September-January following significant rainfall. Builds cup-shaped nest in hollow or natural depressions in the ground, usually in grasslands.

Distinctive Markings

Feathers have dark, central streaks. Many colour variations exist that tend to match the soil colour.
Taxonomy
Phylum
Class
Order
Family
Genus
Species
---
Occurs from Eyre Peninsula in South Australia through Victoria, New South Wales, Queensland, Northern Territory and Western Australia to Shark Bay. Vagrant to Tasmania. Also occurs from Nigeria to Arabia, India and the Malay Archipelago.
Source: Atlas of Living Australia
Horsfield's Bushlark is more often heard than seen, singing while in flight.
---
Interesting Facts
Diet

Omnivore. Feed on grasses, seeds and insects.

Habitat

Open woodland, tussock grassland, saltbush, cereal crops and sparse sugar cane fields.

Native Status