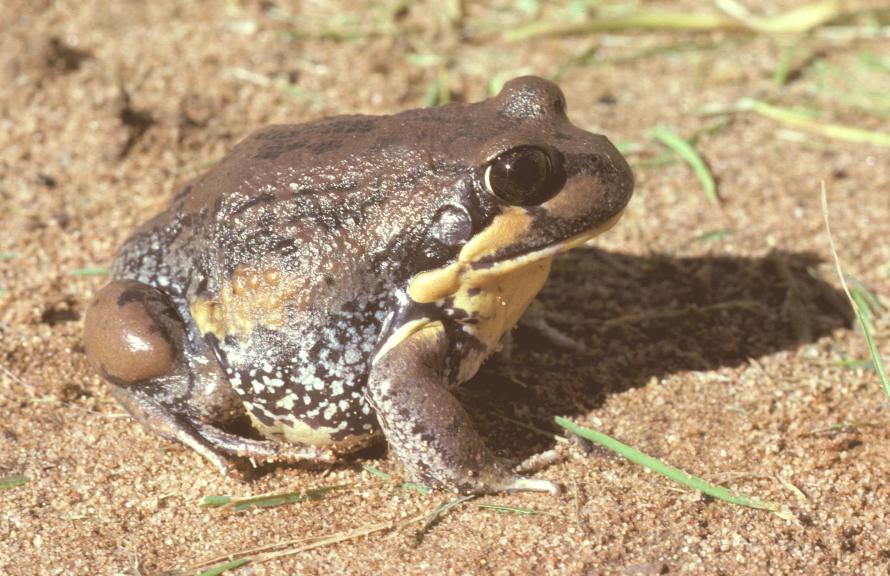 ---
Details
Type
Group
Biology

Breeding season: spring, summer and autumn, after heavy rains. Males call most of the year, except summer, from concealed floating vegetation within waterbodies. Eggs are pigmented and contained within a large foam mass, which is concealed among aquatic vegetation or flooded burrow. It spends most of its life underground and emerges only after rain when its time to feed and spawn. It is powerful burrower and jumper.

Distinctive Markings

A cream, yellow or orange raised stripe extends from below the eye to arm.
Taxonomy
Phylum
Class
Order
Family
Genus
Species
The Giant Banjo Frog is the largest frog species in Victoria.
---
Interesting Facts
Diet

Carnivore. Adults feed on a wide variety of insects.

Habitat

Adults live in disturbed areas or woodlands, usually in quite dry forests associated with floodplains. They are fairly uncommon in Victoria, and largely restricted to the Murray River floodplains.

Native Status