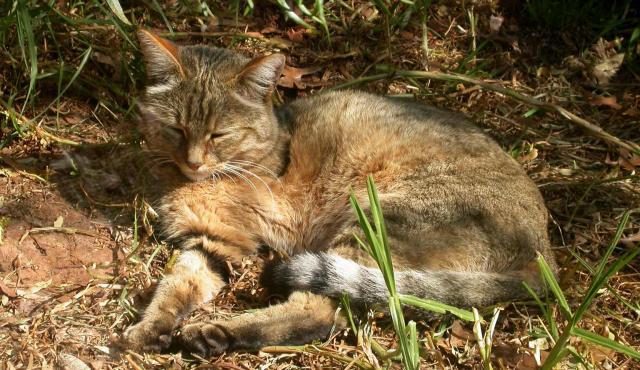 ---
Details
Type
Group
Biology

Some cats are urban strays surviving mainly on human refuse. Others are feral animals which survive by eating native animals. Usually solitary and nocturnal, spending most of the day sheltering in a hollow log, rock pile or an old burrow. Rabbits have helped the spread of feral cats by providing food and burrows for shelter. Feral cats breed from the age of about one year in any season. They can have up to 2 litters of about four kittens each year. Feral cats are prey for foxes, dingoes and wedge-tailed eagles.

Distinctive Markings

Often stripes, dots, lines or patterns on fur.
Feral cats can carry infectious diseases such as toxoplasmosis and sarcosporidiosis, which can be transmitted to native animals, domestic livestock and humans.
---
Interesting Facts
Diet

Carnivore. Small mammals including young rabbits and bandicoots. Birds, especially ground-nesting or ground-dwelling birds, including eggs and hatchlings, small reptiles, frogs and invertebrates.

Habitat

Most areas, except wetlands.

Native Status