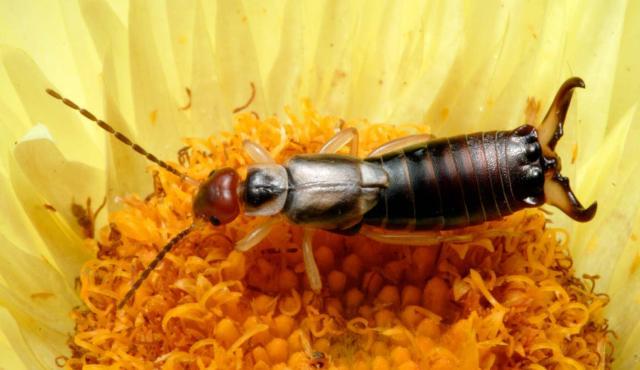 ---
Details
Type
Group
Biology

Nocturnal. European Earwigs can occur in large numbers at times. They can be a pest as they damage young plants. Adults can use their pincers in defense, twisting their abdomen forward over their head or sideways to fight an enemy, often another earwig.

Distinctive Markings

A pair of long, pointed tail pincers. Dark brown body.
Taxonomy
Phylum
Class
Order
Family
Genus
Species
Rarely seen flying, but when ready to take flight the adults usually climb and take off from an elevated object.
---
Interesting Facts
Diet

Omnivore. Eats aphids, spiders, caterpillar pupae, leaf beetle eggs, scale insects and springtails. Also eats vegetable matter including flowers, fungi and algae.

Habitat

Hides in leaf debris, cracks and crevices during the day. Can be found on flowers at night.

Native Status