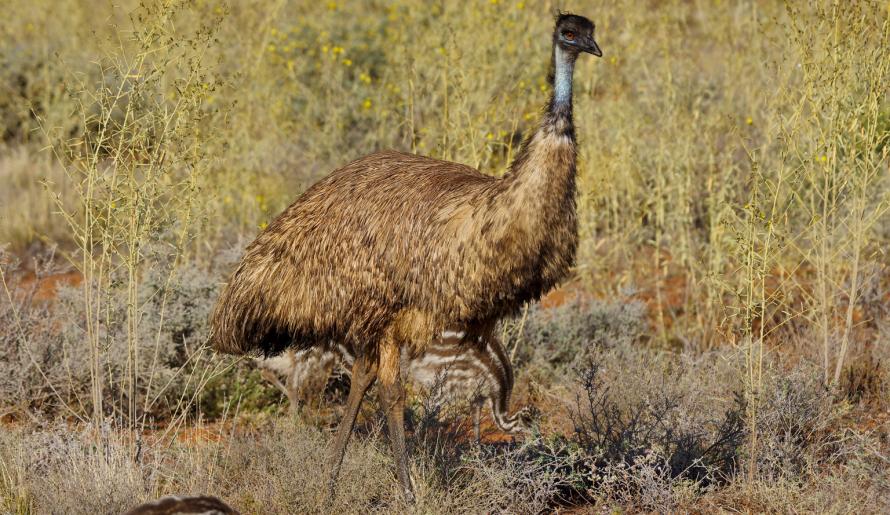 ---
Details
Type
Group
Biology

Breeding season: April to June. Clutch size is 5-15. Nesting takes place in winter. The male and female remain together for about five months, which includes courtship, nest building and egg-laying. The nest consists of a platform of grass on the ground. The large eggs (dark bluish-green) are laid at intervals of two to four days. The shells are thick, with paler green and white layers under the dark outer layer. The female dominates the male during pair formation but once incubation begins, the male becomes aggressive to other Emus, including his mate. The female wanders away and leaves the male to perform all the incubation. The male incubates the eggs without drinking, feeding, defecating or leaving the nest. During this time, eggs often roll out of the nest and are pulled back in by the male.

Distinctive Markings

Covered with shaggy grey-brown feathers except for the neck and head, which is largely naked and bluish-black.
Taxonomy
Phylum
Class
Order
Family
Genus
Species
The Emu is the second largest living bird by height. It is the largest native bird in Australia.
---
Interesting Facts
Diet

Omnivore. Feeds on fruits, seeds, growing shoots of plants, insects, other small animals and animal droppings.

Habitat

Found in plains, scrublands, open woodlands, pastoral lands, semi-desert and margins of lakes.

Native Status