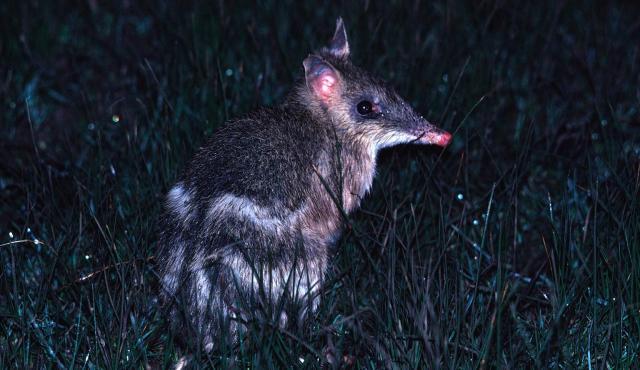 ---
Details
Type
Group
Other Common Names

Tasmanian Barred Bandicoot

Biology

Active at night. Can breed throughout the year, but mostly between July to November. Pregnancy lasts just 12 days, so they can produce up to five litters of young per year, with an average litter size of two. Can breed after 4 months of age. Average lifespan is 18 months to 2 years. Males need 13-20 hectares while females need 2-3 hectares.

Distinctive Markings

White stripes on rear of back, short white tail, long nose.
Taxonomy
Phylum
Class
Order
Family
Genus
Species
Once widespread across western Victoria but now critically endangered in Victoria. Several captive breeding populations have been established.
---
Interesting Facts
Diet

Omnivore. Small invertebrates including worms, beetles, crickets, moths, cicadas and caterpillars. Plant bulbs and tubers including the Plains Yam Daisy, fruits and fungi.

Habitat

Natural habitat is tall, dense native grasslands and grassy woodlands, although they can live in modified habitats if there is suitable shelter and control of predators such as cats and foxes.

Native Status

Native to Australia. Once widespread across western Victoria.