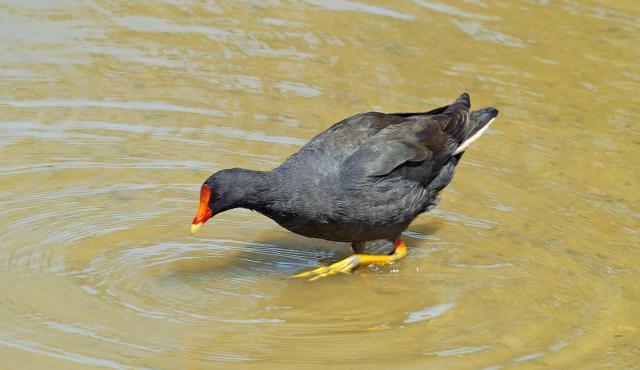 ---
Details
Type
Group
Biology

Breeds August-March. A bulky shallow nest is built in rushes or reeds or on floating platforms in open water. May also nest in branches or stumps of waterside trees. In the breeding season, breeding groups of up to 7 birds form. All members of the group assist with incubation of the eggs and feeding the young.

Distinctive Markings

Yellow-tipped scarlet bill.
Taxonomy
Phylum
Class
Order
Family
Genus
Species
Dusky Moorhens flick their tails while feeding revealing a white undertail.
---
Interesting Facts
Diet

Omnivore, feeds in the water and on land. Eats algae, water plants, grasses, invertebrates including molluscs, fruits and seeds.

Habitat

Well-vegetated wetlands, lakes, parks, dams, rivers with grassy margins, trees or introduced willows.

Native Status