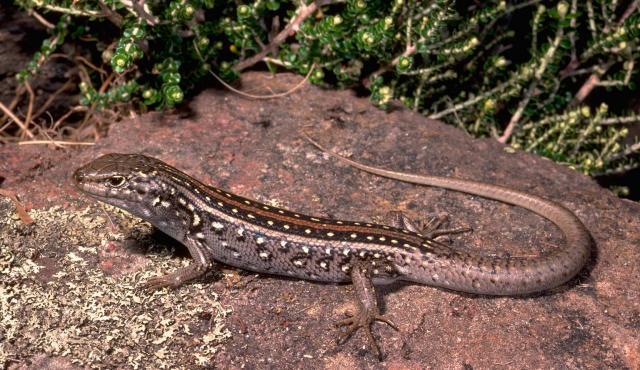 ---
Details
Type
Group
Other Common Names

White's Skink, White's Rock-skink

Biology

Viviparous (live young). Females give birth to between 2 and 6 live young. Gregarious, meaning living in small groups. Long-lived with a lifespan of up to 8 years. Moult 3 to 5 times a year.

Distinctive Markings

May have distinctive stripes and spots.
Taxonomy
Phylum
Class
Order
Family
Genus
Species
---
Found in cool, temperate areas from southern Queensland to the Eyre Peninsula in South Australia as well as Tasmania.
Source: Atlas of Living Australia
A very slow growing species. Threatened by removal of rocks from its habitat and feral cats.
---
Interesting Facts
Diet

Omnivore. Invertebrates including ants, spiders and millipedes. Occasionally plant material.

Habitat

Widely distributed throughout Victoria in rocky areas. Lives in burrows under rocks.

Native Status