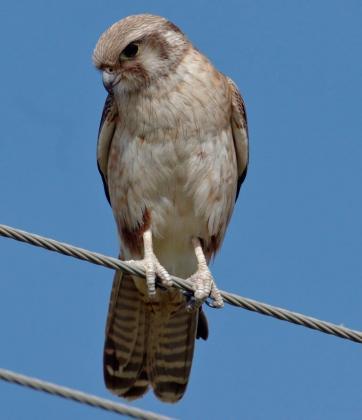 ---
Details
Type
Group
Biology

Breeding season in southern Australia is from August to November. This species does not build its own nest but occupies nests built by other bird species. The nest is often relined. The female lays a clutch of 2-3 eggs which are incubated for 31-35 days chiefly by the female but the male will also take this role at times. The male supplies most of the food during this time. The young fly at 30 days.

Distinctive Markings

Double 'teardrop' enclosing pale cheek patch. Always has red-brown to dark brown 'trousers'.
Taxonomy
Phylum
Class
Order
Family
Genus
Species
One of the most widespread birds in Australia.
---
Interesting Facts
Diet

Carnivore. Small mammals including mice, rabbits and bandicoots. Insects including grasshoppers, cicadas and beetles as well as small lizards, snakes and birds.

Habitat

Prefers open grassland and agricultural areas. Perches on scattered trees and telegraph poles. Also found in open woodland, mulga scrub, watercourse treelines, alpine areas, heath and coastal dunes.

Native Status