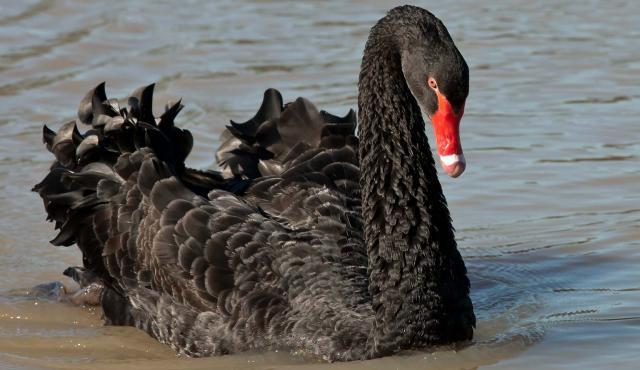 ---
Details
Type
Group
Biology

Forms isolated pairs for life. Both adults raise one brood per season. Breeds anytime of the year with ample rainfall. Breeding season is usually early-mid winter in southern Australia. Forms untidy nests of reeds and grasses on small islands or floating in deep water. Clutch size is usually 5 or 6 eggs but can lay up to 10 eggs. Incubation time is 35-45 days.

Distinctive Markings

Distinct narrow, white band towards the end of the bill. Curled feather tips gives this species its characteristic ruffles.
---
Found throughout Australia except Cape York Peninsula. More common in southern parts of Australia. Introduced to New Zealand and New Guinea where they are now vagrant.
Source: Atlas of Living Australia
The world's only largely black swan.
---
Interesting Facts
Diet

Herbivore including algae and weeds.

Habitat

Diverse range of habitats including lakes, estuaries, rivers and temporary wetlands of arid inland areas.

Native Status