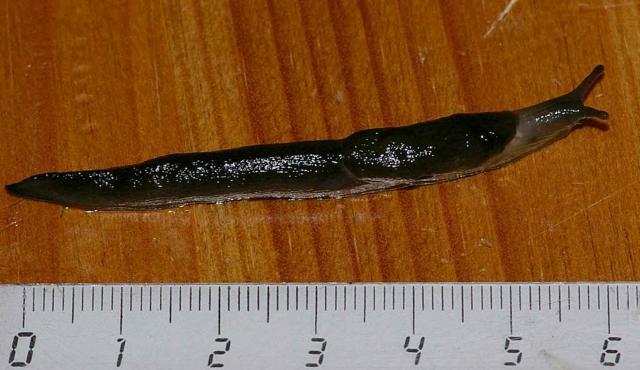 ---
Details
Type
Group
Other Common Names

Jet slug, Greenhouse slug

Biology

Usually feed at night. Hides under stones, moist ground litter and in the soil during the day. This pest species of crops can burrow into soil and often damages the roots and lower stems of plants. Eggs are laid in tunnels made below the soil surface. Clutch size may be as few as 16. The eggs incubate for about 25 days. The hatchling slugs mature within 4-5 months.

Distinctive Markings

Has a very prominent keel (ridge) from the back edge of the mantle to the tip of the tail. This is more obvious when the slug is disturbed and contracts its body.
Taxonomy
Phylum
Class
Order
Family
Genus
Species
---
Native to western Mediterranean and western Europe. Distributed in south-eastern Australia and Tasmania.
Source: Atlas of Living Australia
Black-keeled Slugs are shell-less terrestrial gastropod molluscs.
---
Interesting Facts
Diet

Herbivore. In native grasslands it appears to prefer plants in the pea family (legumes), daisy family and some lilies.

Habitat

Occurs in crops and gardens. Has invaded native grasslands in Victoria.

Native Status