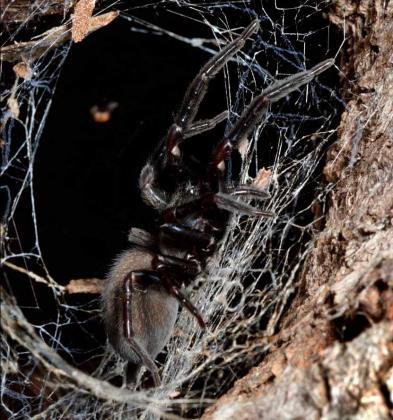 ---
Details
Type
Group
Other Common Names
Biology

The female spider stays in her web, never leaving it and always repairing it (so old webs can look grey and woolly due to the added silk). Several white silk egg sacs are held within her web for protection. When the spiderlings hatch they disperse. The spiders mature during summer and live for about two years.

Distinctive Markings

The webs of Black House Spiders are lacy silk sheets with 'funnel-like' entrances, often located in a crevice (not in the ground).
Taxonomy
Phylum
Class
Order
Family
Genus
Species
Black House Spiders are attracted to trees that have been attacked by wood-boring insects, as the sap flowing from the bored holes attracts flies, beetles, butterflies, bees and ants, which the spider can easily prey upon.
---
Interesting Facts
Diet

Carnivore. Invertebrates such as flies, beetles, butterflies, bees and ants. They are eaten by birds, the White-tailed Spider, parasitic wasps and flies.

Habitat

Tree trunks (especially rough barked), logs, rock walls and buildings (e.g. in window frames, wall crevices).

Native Status