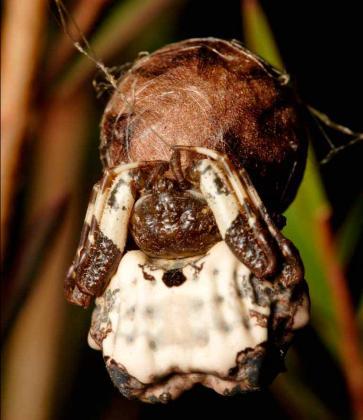 ---
Details
Type
Group
Other Common Names

Death's Head Spider, Orchard Spider

Biology

Feeds at night, using mimicry to capture its prey. It hangs from the edge of a leaf or twig on a short silk thread, with its forelegs stretched out. It releases a chemical scent (pheromone) that mimics the scent released by female moths to attract their mates. If male moths attracted by the spider's mimicking scent flutter close enough they are grabbed by the spider's strong front legs. The egg sacs are marbled brown coloured balls, about 12-14 mm wide, each holding more than 200 eggs. Up to 13 sacs are joined together in a group.

Distinctive Markings

Shape, colour pattern and resting position help this spider look like a bird dropping. It usually holds its legs folded in against its body.
Taxonomy
Phylum
Class
Order
Family
Genus
Species
Looking like dung protects them from predators such as birds and wasps. Sometimes called a Death's Head Spider as its markings can resemble the shape of a skull.
---
Interesting Facts
Diet

Carnivore. Mainly eats male moths.

Habitat

Found in open woodlands and urban gardens.

Native Status