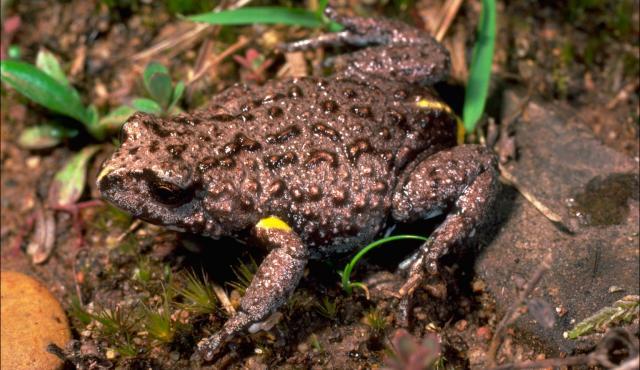 ---
Details
Type
Group
Other Common Names
Biology

Breeding season: after heavy summer rains. Females lay 20-200 pigmented eggs in loose clumps in small depressions in the soil. The eggs are often coated in soil or mud. Males guard the eggs. A ground dwelling species which tends to walk rather than hop.

Distinctive Markings

Adults have a coarse black and white mottled pattern on the undersurface. Slightly pointed snout and indistinct tympanum.
Taxonomy
Phylum
Class
Order
Family
Genus
Species
---
South-east South Australia, southern and eastern Victoria, eastern new South Wales to extreme south-eastern Queensland.
Source: Atlas of Living Australia
Males call from within their shallow nest or burrow.
---
Interesting Facts
Diet

Carnivore. Adults feed on invertebrates.

Habitat

Grassland slopes or beside ditches.

Native Status