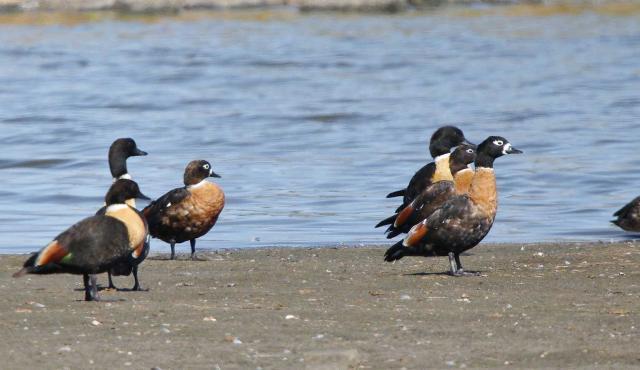 ---
Details
Type
Group
Other Common Names

Chestnut-breasted Shelduck, Mountain Duck

Biology

Breeds June-November. Often found in very large flocks. These disperse during late winter and monogamous pairs form and establish territories. Nests are built in tree hollows and occasionally down rabbit holes. Only the female incubates the eggs. Clutch size is between 5 and 14 and incubation is between 30 and 35 days.

Distinctive Markings

Upright stance and a dark head contrasting with a white neck ring in both males and females.
Taxonomy
Phylum
Class
Order
Family
Genus
Species
---
Found in south-western and south-eastern Australia. Occasionally seen north to the Kimberley region of Western Australia and in central Australia.
Source: Atlas of Living Australia
Females and males can often be heard calling to one another. The male honks loudly and the female responds with a buzzing call.
---
Interesting Facts
Diet

Omnivore. Feeds on pasture or aquatic vegetation. Also eats algae, insects and molluscs.

Habitat

Prefers freshwater habitats including lakes, estuaries, dams and flooded paddocks. Will frequent saltwater but this needs to be close to a supply of freshwater.

Native Status