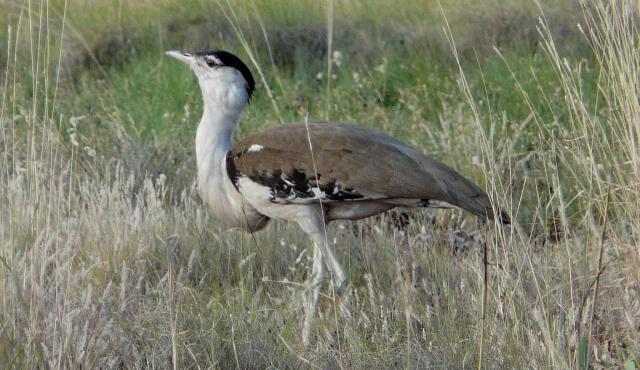 ---
Details
Type
Group
Other Common Names

Plains Turkey, Wild Turkey

Biology

Breeding season is from August to November. One to two eggs are laid directly on the ground, often in open areas near spinifex grass for the chicks to hide amongst once hatched. Incubation and care of the young is by the female. This species is nomadic.

Distinctive Markings

Bold, black and white markings on the wings. Walks holding the head and neck erect. The male has a black crown with a black breastband. The female has a brown crown and no breastband. The white, feathered breast sac of the male is inflated and swung from side to side in a display to the female during the breeding season.
Taxonomy
Phylum
Class
Order
Family
Genus
Species
---
Inland and tropical northern Australia. Has mostly disappeared from the western volcanic plains of Victoria. Also found in New Guinea.
Source: Atlas of Living Australia
Destruction of grasslands and the introduction of sheep and cattle are believed to have had the greatest impact on Australian Bustards.
---
Interesting Facts
Diet

Omnivore, feeding on leaves, buds, seeds, fruit, frogs, lizards and invertebrates including crickets and grasshoppers, also mice.

Habitat

Grassland, spinifex, arid scrubland with saltbush and bluebush. Open, dry woodland of mulga, mallee and heath.

Native Status